Mobile Deposit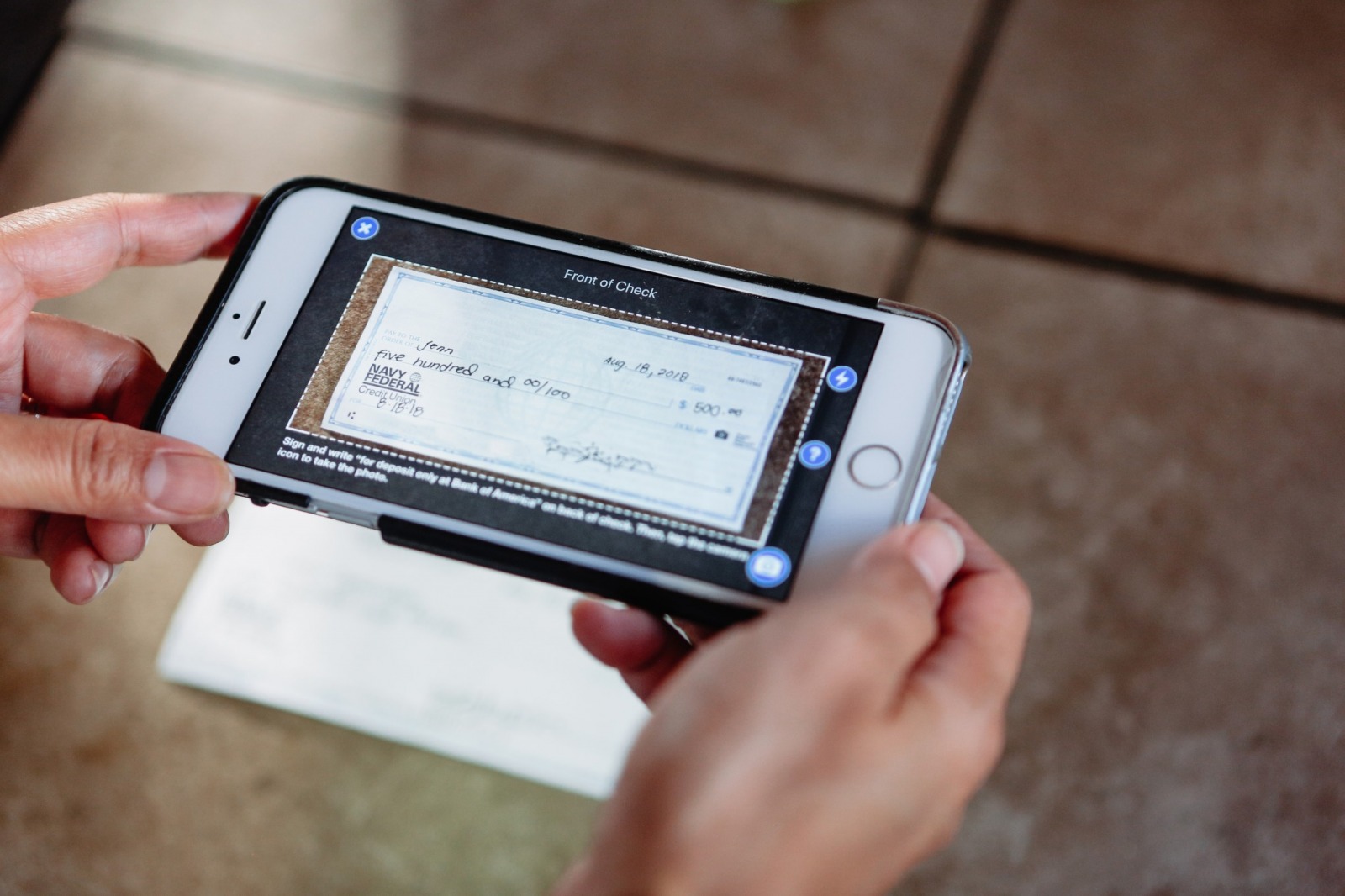 Use any mobile device camera.
Tap . Snap . Done ✔️
Apple Pay
Use an IOS device to pay with a tap.
Our Visa credit card is Apple Pay ready.
Quick answers.
See all your accounts, cleared checks, and transactions.
Simple transfers.
Move money from checking to savings and back again.
All your payments.
Pay bills and loans without pausing your music.
Authenticate yourself without a password.
Fingerprint and Face ID are quick and secure ways to get into the app.
Frequently Asked Questions
The process for signing up for Google Pay is the same for both Android and iOS users. You'll start by downloading the app from the Google Play store or the Apple App Store.

Then you'll sign in using your Gmail account—you can create a new account if you don't already have one. Next, you'll enter your phone number, and Google will send you a code via text to confirm it. Once you've verified your information, the app will ask you to select various privacy settings, all of which you can change later if you'd like.

For example, you can opt-in to allow other app users to search for you in the app with your name or contact information, and you'll be able to choose if you want to earn cash back and discounts.

Finally, you can decide to turn on the personalization feature, which keeps track of your activity to personalize your experience in the app for convenience. If you're not sure about that, you can request a reminder in three months or simply leave it off.

Although you'll be able to access Google Pay to send money peer to peer via an iPhone or iPad that uses iOS 10 or higher, you can only make contactless payments and pay online or in-app with an Android device (that uses Lollipop 5.0 or higher).

Samsung Pay usually comes preloaded on compatible phones, but you can always reinstall it if needed.

Once it's installed, open Samsung Pay, and then tap Get started. Enter a new PIN for Samsung Pay, and then enter it again to confirm.

If it's your first time using Samsung Pay, you may be asked to add a payment card by using your phone camera, take a snapshot of your MSFCU Mastercard Debit Card. (MSFCU Visa Credit Card cannot be used.) Samsung Pay is available on newer Samsung Galaxy phones and watches.  Non-Samsung phones must have Android 6.0 or higher.

On your iPhone, open Wallet. On your iPad, go to Settings > Wallet & Apple Pay.
Tap Add Credit Card
If you have a supported credit card on file with iTunes, enter the card's security code. Otherwise, use the camera to capture the information from your MSFCU credit card or MSFCU debit card.
Fill in any additional information needed, including the card security code. Then, tap "next."
Your Credit Union will verify your information and decide if you can add your card to Apple Pay. If they need more information, they'll ask you to provide additional verification.
You can verify your card any time after you add it. Just return to Wallet on iPhone or Settings > Wallet & Apple Pay on iPad, and follow the steps.